As we enter 2019, we reflect on another successful year, and a very exciting year of growth for World Youth International.
None of this is possible without our volunteers or supporters! Thank you to each and every one of you for your ongoing support and for the difference you have made to the lives of people in Nepal, Kenya and here in Australia.
We are very excited about what 2019 holds. We have moved into a larger office in Modbury, SA and have many new ventures on the cards, stay tuned :)
Love the WYI Team x
Computershare Trek Nepal 2018
In November, 33 employees from Computershare took part in a fundraising trek through the Himalayas.
The team raised an exceptional amount of funds for the World Youth International School in Nepal which will go towards the construction of a hostel allowing year 11 and 12 students to live on campus.
The team were met at the airport in Kathmandu by WYI representatives and, given the last-minute cancellation of our flight, embarked on an unexpected bus journey to Pokhara; a true Nepali cultural experience from the start!
Two days and a lot of sleep later, the team began their 7 day trek through the Himalayas, reaching the highest peak, Poon Hill, at sunrise on day 3 at a height of 3,210m. It was a perfectly clear day and we had panoramic views of the white capped mountains all around. We were very fortunate with the weather during the trek and enjoyed amazing views every day. Coming from various fitness levels and experience, the group completed the trek together as a team and the support they gave each other throughout was extremely humbling.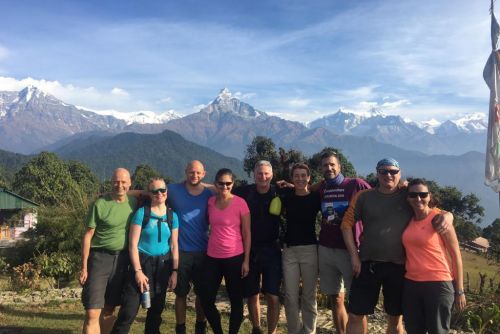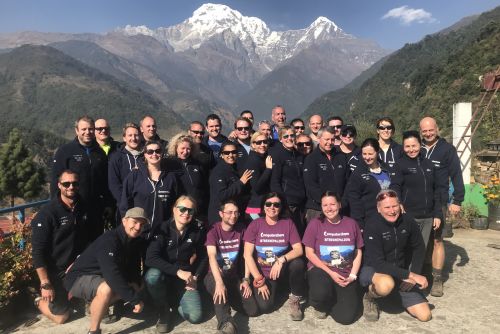 After a massage and a hot shower or two, we visited the World Youth International School where the team was able to see the impact of funds from Change a Life. We were treated to a number of performances from the students and were able to participate in some games with the students and teachers as well!
The day ended with an impromptu group dance with students and Computershare representatives and this was a highlight of the trip for many.
On behalf of World Youth International, it was an absolute privilege to share this experience with the group from Computershare. It was incredibly inspiring to watch everyone complete the trek with such determination and support for each other. I thoroughly enjoyed watching the team learn about and embrace Nepali culture and form lifelong friendships with each other, our amazing trekking team and local staff. Accompanying the team to the school was very special, it was great to see the team interacting with the students and gaining a much greater understanding of the difference that Change a Life makes.
Thank you very much to everyone who participated, fundraised, supported, and helped to pull this together!
Katrina Pedler
WYI Marketing and Fundraising Manager
The visit to the World Youth International School was such an amazing day, and everyone at the school made us feel incredibly welcome. From the initial blessing at the school's gate, the hours of dance and music performances from each grade (which must have taken months to prepare), and the speeches from students both former and current, they demonstrated their appreciation of our support, and in turn made us ever more grateful for the opportunity to be part of it. The difficulty and stress of the fundraising efforts in the preceding ten months were instantly forgotten as the benefits of the support were realised. The classrooms have a number of resources including books, computers and science equipment, and the English skills of the students were evident, both from impressive speeches during the ceremony and the confidence shown in all children, down to the lowest grades, in starting conversations and asking questions.
Josh Cooper, Trek Nepal 2018 Participant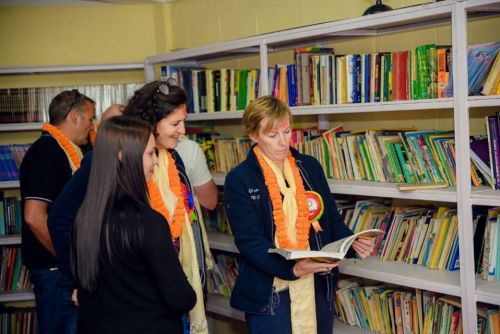 Nurses in Action Update
We have had three very successful Nurses in Action programs run in Nepal and Kenya in October and November 2018. A huge thank you to our amazing volunteers and Team Leaders; Matilda Fischer, Delna Plathottam and Emily Butcher.
Nepal October 2018
"In October 2018, 12 enthusiastic nurses from all over Australia started an amazing journey in Kathmandu, Nepal. We landed at festival time and witnessed an exuberant display of Diwali light decorations.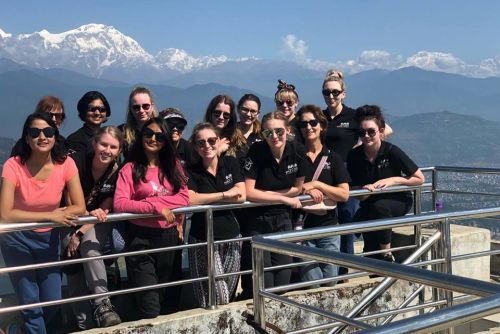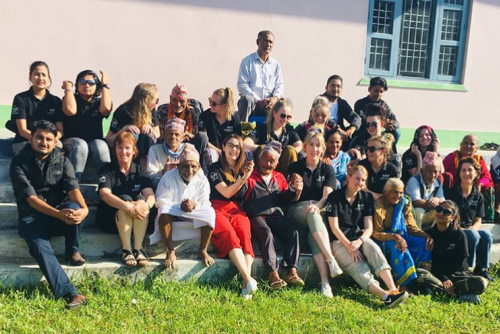 Our first placement was at Western Regional Hospital where the team worked alongside staff in Emergency, Pediatric, Medical, Surgical and De-addiction wards. Our Nepali Assistant Team Leaders Kanchan and Jaya did an amazing job at translating so we could understand as well share our knowledge with the staff and patients at the hospital.
Besides the placements we provided health education to a group of sex workers on safe sex and prevention of sexually transmitted diseases.
We continued our journey to our first village Jogitar approximately 70 km from Kathmandu. We continued our health education with a special focus on young adolescent girls to educate the importance of menstrual hygiene due to the traditional taboo associated with it. We also initiated the village clean-up program where we spent half a day removing plastic waste and went door to door educating the importance of proper waste disposal.
We also organised and delivered two massive medical camps alongside doctors where in excess of 500 Nepali people were provided with much needed medical care.
Heartfelt thanks to the beautiful and lovely people of Nepal who welcomed us with open arms into their country.
Thank you Amelia, Bridget, Carolyn, Danielle, Hannah, Jenny, Kelsey, Laura, Madeline, Natalie, Shannon and Tess for making Nurse in Action October 2018 a huge success! I am privileged to have been part of the team and will always cherish the time we spent together. It was heartwarming to witness first-hand the profound impact and change we have made in the lives of the locals."
Delna Plathottam, Team Leader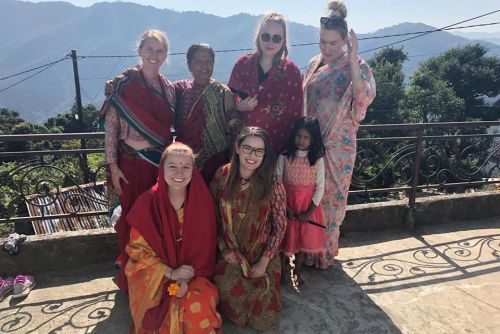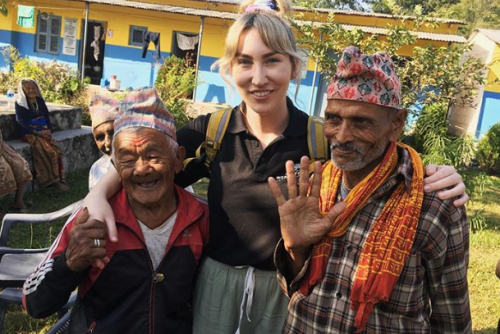 Nepal November 2018
In November, a team of 6 nurses spent 4 weeks providing healthcare and education in two remote villages, working at health centres and running a medical camp at a homeless shelter. It was a busy 4 weeks for the team and we couldn't be more proud of what they have achieved!
A huge thank you to Team Leader Emily Butcher, Assistant Team Leader Kanchan Bhandarii and the team; Ramona, Sophie, Raphaelle, Cathy, Cindy and Hannah!
"The second village was absolutely amazing. So pretty and the people were some of the friendliest we met. We stayed in such a beautiful home with the most epic views. It was a really small village, 250 people. We assumed the medical camp was going to be small and all agreed we would be happy if we could just help that one person. The final tally was 211!!!! The team was able to raise extra funds to bring a dentist. I popped my head into see how he was going. This little boy looked up with the biggest smile and pointed to blood on his tooth, the dentist had just pulled out one of his teeth, never had a seen a happier kid before. (Note that earlier when the team delivered health education around dental hygiene they did not know what a dentist was!)." Emily Butcher, Team Leader.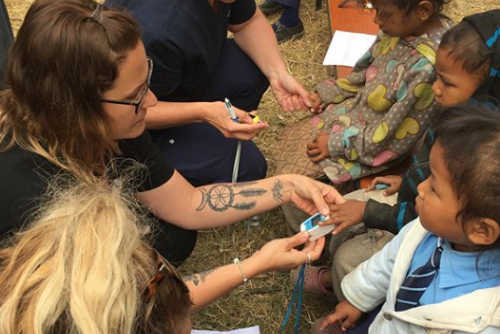 Kenya, October 2018
"It was an exciting time. Everything was prepped and ready to go when the team arrived in Kisumu. We had six nurses, one midwife and one team leader, all ready to start on the program. Our first few days in Kenya were spent getting to know each other as well as the bustling streets of Kisumu. We had a great team and all were eager to get going with the program.
Day one in Odede we had the opportunity to meet all the local staff and see the centres where we would be working which brought a mix of emotions and excitement. We were then deeply immersed in the Kenyan culture and way of life. New tastes, sights and smells, and once we started working a whole new set of challenges.
There were times where we were confronted with differences in practice and procedures. We were also faced with the challenge of working in an environment with minimal resources and drawing on every bit of underlying knowledge we had as health professionals to provide the best level of care that we could. However all this was surrounded with some of the best highs, including assisting in the delivery of several babies at Odede Health Centre, providing thorough education sessions which were well received and much appreciated as well as receiving education from local staff on local conditions and practices.
The team also got the opportunity to head out with community health volunteers on motorbikes to do home visits for many members of the community who were unable to make it to a health centre, where they were able to provide basic health care and education.
Overall it was an experience like no other. The team did an amazing job and embraced every opportunity with a positive attitude. By the end of the program the team were confident and comfortable getting on a motorbike and heading off to placement for the day, they were greeting their patients in Luo, eating Ugali with beans for dinner, and brushing their teeth each night overlooking Lake Victoria as the sun set behind them. All experiences which will not be forgotten any time soon."
Matilda Fischer, Team Leader
Thank you to Tilly and her team; Amanda, Katherine, Bethany, Tamika, Kathleen, Rachel and Nikita!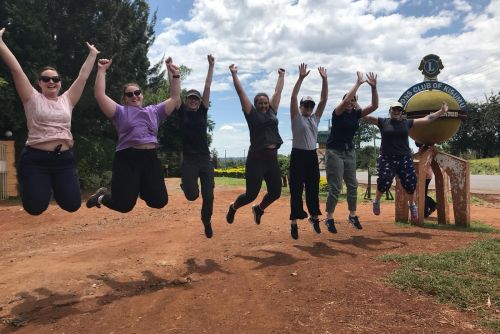 Ultrasound Machine for Odede
On February 1 we will be launching a crowdfunding campaign to raise money for a brand new ultrasound machine for Mama Ann's Odede Community Health Centre!
For those of you who have been there, you know firsthand what a huge impact this will have on pregnant women and their babies in the community.
For those who haven't been there, whenever someone needs an ultrasound the Health Centre refers them to another hospital that has the equipment. Usually patients are referred to Bondo, which is 30 - 45 minutes drive away. This is expensive for patients because they have to pay for a second appointment, the fees to use the machine, and the travel to and from Bondo hospital. Most people in Odede live on less than $2 per day, so this kind of expense is quite a burden.
Also, it means that literally thousands of people in the area are reliant on only a couple of hospitals that actually have an ultrasound machine.
So; there is simply not enough accessible ultrasounds to serve the population!
Keep an eye on our Facebook page for updates!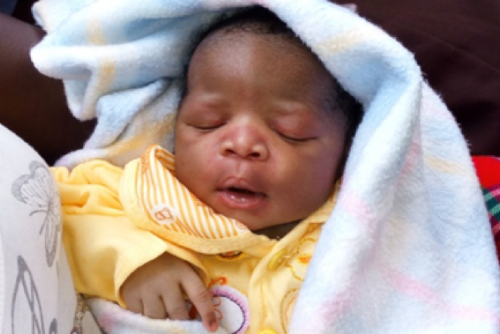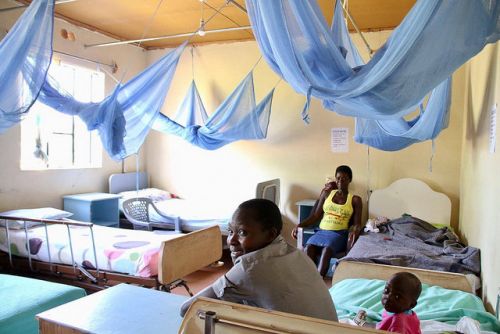 Jamie Young Cup 2019
The World Youth International School in Nepal is busy preparing for the Jamie Young Cup which will be held over 3 days in June 2019. Jamie Young (Brisbane Roar player), is the World Youth International Sports Ambassador!
Over 20 schools will participate in the football tournament and Jamie Young himself will be there to watch and present awards to the winning team and Best and Fairest players. A new football pitch is being constructed to host the tournament.
Excitement levels are definitely high around the school!