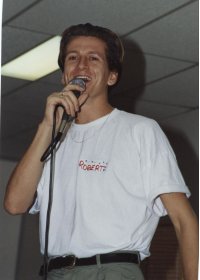 Where it all Began
Robert Hoey, a young Australian from Adelaide, worked with teenagers on various youth programs. He became passionate about providing young people with opportunities to become involved in the global community, and was invited to work with an American youth organisation in Russia for three months, supporting rehabilitation programs for young people who had been affected by the Chernobyl disaster.
Robert returned to Australia more passionate than ever about the impact that young people could have on the world, and all the opportunities out there for young Australians to be engaged and contributing to other communities.
In 1988, at just 21 years old, he founded World Youth International, an organisation dedicated to creating those opportunities and helping young people to be challenged, inspired, motivated and connected. One of the first programs WYI ran was for 15 Russian teenagers who travelled to Australia for a three-month cultural exchange program. To support them, 40 Australian teenagers raised more than $24,000 through sponsorships to ride their pushbikes between Melbourne and Sydney (and back again!). This was the first of many such bike rides all over the country, and the beginning of WYI's impact.
Robert continued to grow WYI's programs over the next few years, travelling all over the world and continuously seeking new experiences and adventures. When he was 28 years old and leading a teenage exchange program in the USA, he suddenly contracted Cryptococcus Meningitis. Not realising the extent of his sickness, he asked to be flown home. Tragically, Robert passed away in his mother's arms, on a flight somewhere between America and Australia.
After his passing, Robert's family decided they couldn't let his dream die with him. Robert's mother and father, Ann and Ralph Hoey, stepped up to lead World Youth International, with the support of the rest of their family. Robert's parents and siblings have since continued to build on Robert's vision, and with the support of hundreds of volunteers over the past 27 years they have created volunteer opportunities for thousands of Australians, and impact for communities around the world.
Robert had a thirst for learning, a desire to help others, and a commitment to experiencing what the world had to offer. He was passionate about the power of young people as change-makers in our global community, and today WYI continues to be driven by this passion.