World Youth International have had a proud history of supporting community development projects in Kenya since 1992. During this time, we have partnered with communities and NGOs in supporting a range of projects including student scholarships, the building of classrooms, kindergartens, eco-toilets, community centres, irrigation projects, goat breeding and more. One of our partners is Kenya NGO The Mango Tree. We support students in Kenya through The Mango Tree's scholarship program.
Instrumental in this projects's success is Adelaide based Ann Shuttleworth, who has been volunteering with World Youth International to support this project.
With the project now coming to a close, Ann has kindly shared her experiences:
"Early in 2013 I was looking to volunteer with an organisation that 'makes a difference' and fits with my values and skill set (a career in human resource management). So I contacted World Youth International on the recommendation of a work colleague. From the first meeting at their office, I had a feeling that it would be perfect for me. And it has been!

The role was to coordinate the administration for a group of orphans in Kenya and their sponsorship from a number of families and businesses in South Australia and interstate.

World Youth International had developed an agreement with The Mango Tree in Kenya to provide support for 34 children for a period of 10 years. The children ranged in age from 4 to 12 years and were orphaned by AIDS in their communities. They had limited or no access to a school, and many had no extended family to support them with even the basics of food, shelter or clothing - and the one thing that could take them out of a cycle of poverty - an education.

The original records from Deb Hoey were a great foundation, and I began my steep learning curve about collaboration across time zones, cultures and 'how things work' in a developing country. Fortunately, I had visited Africa (Zimbabwe and South Africa) during my travels around the world, so I had a mental image of the beautiful people, their physical environment, the poverty, and the challenges in their communities.

The generous sponsors who have supported the program, and some of them since the beginning, are amazing. Even if their student exited the program (through pregnancy, bad influences in their family, car accident, too old to continue at school i.e. 22 y.o.) they kept supporting us. Some also have great success stories with students going to university, or taking up leadership roles in their community, becoming a mechanic, a nurse and a teacher.

With great support from Ralph and Terry, and in the early years from Adam Whitefield and all of the wonderful staff and volunteers that I've worked with, I've learnt so much and made great friends. Learning that things important in our daily lives here like: punctuality, accuracy, political nuance, empathy, communication/interpretation are all much more finely balanced and have different relevance, especially in a volatile environment like Kenya.

Along the way I hope I've helped many of my family and friends understand the complexities of supporting a group of orphans in poverty, to become self-reliant. My thanks to Ralph and Terry, and the staff (past and present) for supporting and educating me along the way, and may they continue their amazing work for many years to come."
Thank you Ann for your generous efforts!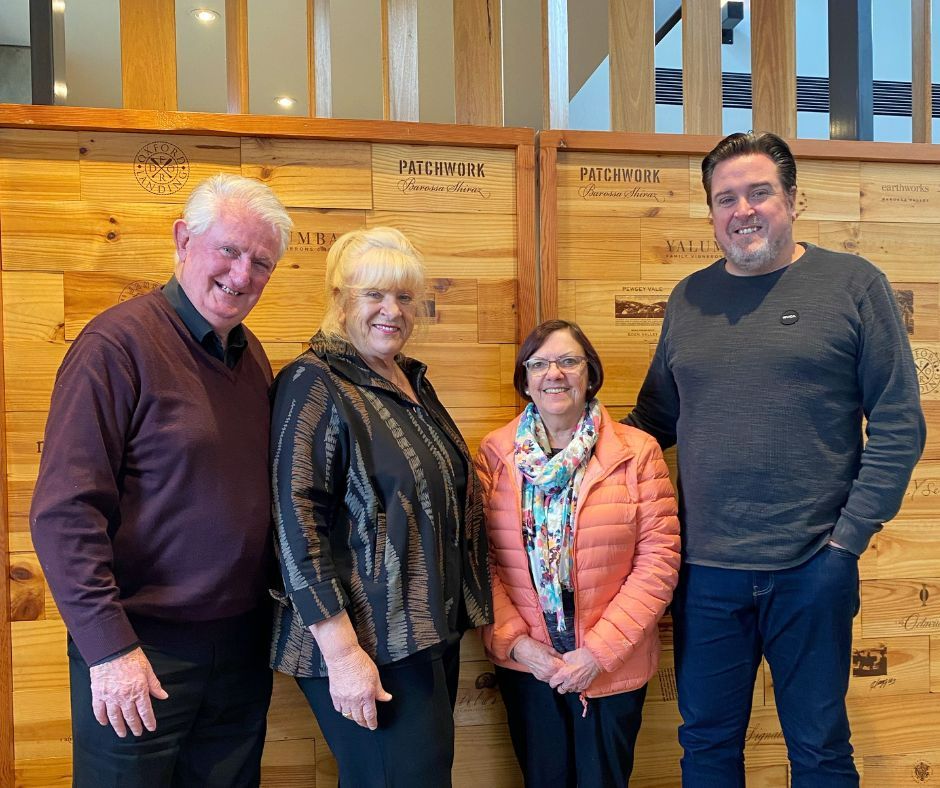 From the left: Ralph Hoey, Ann Hoey, Ann Shuttleworth and Terry Hoey.