World Youth International's Founder, the late Robert Hoey, had a thirst for learning, and a desire to help others. He was passionate about empowering people to be change-makers in our global community. Our work and impact has been recognised around the world, as we continue to be driven by this passion.
The Order of the Gorkha Dakshin Bahu
On 5 November 2004, The Order of Nepal, the Gorkha Dakshin Bahu was bestowed on Ralph Hoey by His Majesty the King of Nepal, for Humanitarian work.
Over 5000 organisations were nominated for the 2004 award and a shortlist of just 10 nominees was presented to King Gyanendra so he could hand select a worthy recipient. Ralph Hoey and his wife Ann were invited to the King's Palace for the awards ceremony and had the opportunity to spend time with King Gyanendra and members of the Royal Family.
This award places Ralph alongside the likes of Sir Edmund Hillary (first person to summit Mt Everest) who is the only other recipient of this award in the southern hemisphere.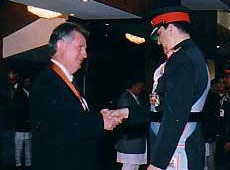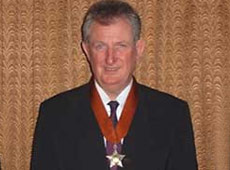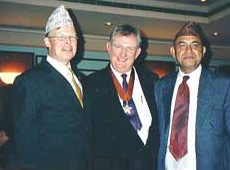 The Order of Australia has been awarded to Ralph Hoey AM on June 12, 2006 by the Governor General of Australia, His Excellency, Michael Jeffrey and presented by the Governor of South Australia, Marjorie Jackson-Nelson.
Ralph was incredibly humbled to accept this award on behalf of World Youth International (WYI) and the work of his late son, Robert Hoey who originally founded WYI.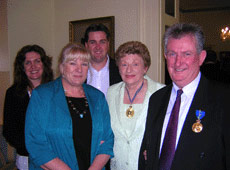 The South Australian Tall Poppy 'Life Experience Award'
On 6 May 2003, Terry Hoey, General Manager of World Youth International, was awarded the South Australian 'Tall Poppy Life Experience Award' presented by the Honourable Jane Lomax Smith. This award recognises excellence and innovation and is awarded to individuals for outstanding specific achievements who continually seek out and adopt innovation and imagination.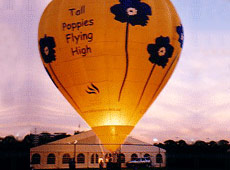 2017 Australia-ASEAN Emerging Leader Award
Celia Boyd, Projects Manager of World Youth International, was named as one of 18 Australia-ASEAN Emerging Leaders from 11 countries by the Prime Minister & Cabinet of Australia in 2017. This was awarded for her work as co-founder and Managing Director of SHE Investments, the first and only gender-focused and culturally tailored business incubator and accelerator for women-led enterprises in Cambodia. SHE has worked with World Youth International and our partners in Kenya since playing a key role in the project team that launched Mama Ann's Odede Community Health Centre in Kenya in 2013, has lived and worked in Cambodia in the field of gender and micro enterprise development since 2014, and has consulted for major aid agencies including USAID, Australia's Department of Foreign Affairs, UN Women, United Nations Development Fund, UN ESCAP, and UN Environment.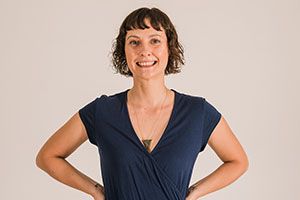 The 2010 Young Achievers Leadership Award
In 2010, World Youth International employee Jess Roberts was awarded the 'Young Achievers Leadership Award' for exemplifying leadership and community spirit through her willingness to work for the benefit of others. Jess, through her work at World Youth International, made an enormous impact on the lives of young people and children globally. She was recognised as being the "Best of the Best" and in the top 1% of personal achievers in South Australia.