World Youth International are extremely thankful for the support of Scrub Lab, an organisation that designs exceptional scrubs to inspire and empower healthcare professionals. Scrub Lab have partnered with us to help facilitate a Health Camp in Kenya, which will help us serve hundreds of vulnerable people within the community with access to a range of healthcare services.
We are committed to community-led, sustainable development projects that improve access to healthcare and education within impoverished communities abroad, such as those in Kenya. Over the past decade, World Youth International have implemented and facilitated the delivery of Health Camps, which have treated over 10,000 patients from remote villages in Kenya. These Health Camps have been set up and run by teams of health professionals who participate in our Nurses In Action volunteer program.
Scrub Lab's donation will empower nurses to enable hundreds of people to be tested for common illnesses such as malaria and HIV during a Health Camp, which will take place once international travel restrictions ease. Testing stations and a pharmacy will be set up, where patients will also receive medication and wounds can be treated as required.
The world is a different place to how we knew it and the impact of the pandemic is being felt far and wide. Countries like Kenya have been experiencing long term lockdowns and there's no light at the end of the tunnel just yet. While the Nurses In Action program is grounded until we can travel overseas again, there are communities who have no access whatsoever to healthcare. Scrub Lab have decided to partner with World Youth International because the time to give back is now more important than ever, and they too want to inspire their wider following to give back and make a difference.
"The opportunity to donate funds for a World Youth International Health Camp aligns perfectly with our purpose as an organisation. We want to help serve healthcare professionals, as they serve the needs of the most vulnerable. Supporting a Health Camp where we can help provide access to quality healthcare, in a country that has been devastated by the pandemic was the perfect way for us to give back as an organisation," said Linh Nguyen, Co-Founder, Scrub Lab.
"We are delighted that Scrub Lab have decided to contribute to a Health Camp in Kenya. We have no doubt that their commitment and generosity will make a difference in the lives of many people, and I'd like to acknowledge the team for taking the first step in such a meaningful journey. We deeply appreciate their support and look forward to developing a relationship with their team over the next few months and beyond," thanked Terry Hoey, General Manager, World Youth International.
We will share photos of Scrub Lab's Health Camp in action when it takes place - stay tuned! In the meantime, read more about this partnership and why Scrub Lab's co-founders Linh and Van chose to 'give back' through our programs here. Follow their journey via their socials: @ScrubLabAustralia
Organisations such as Scrub Lab are incredibly generous advocates of our mission and vision, to educate and empower, and ensure health professionals and volunteers can make a difference on a global scale. If you can also make a positive difference to hundreds of lives by contributing to a World Youth International Health Camp, or other sustainable development projects in Kenya or Nepal, please contact Gabriella Ocenasek, Partnerships & Marketing Director.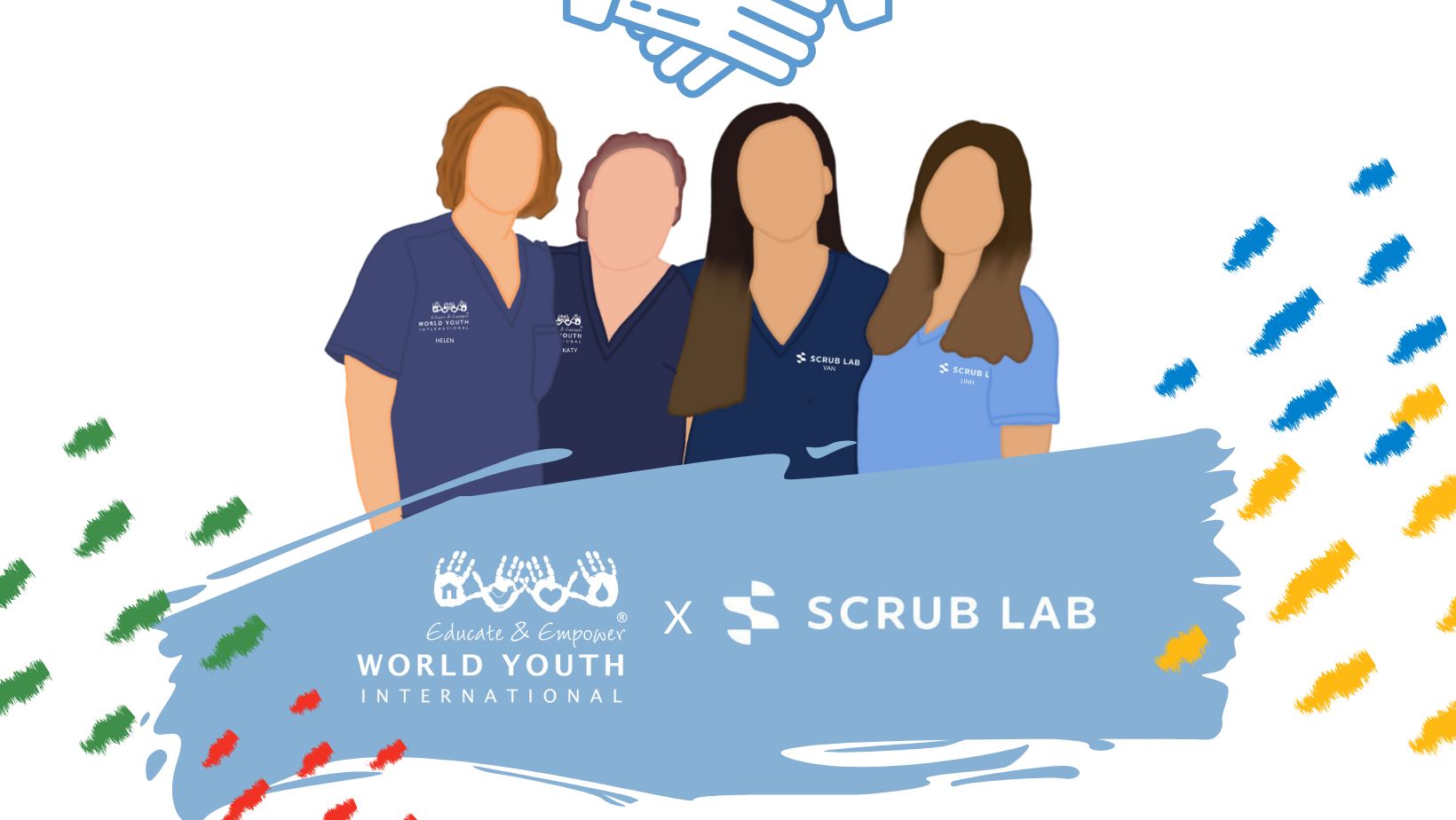 Pictured: Helen Zahos (Humanitarian Nurse & Paramedic, Nurses In Action Ambassador), Katy Condliffe (Registered Nurse, World Youth International Board Member) with Van & Linh (Scrub Lab Co-Founders). Artwork by World Youth International Intern Emma Ranaldo.