Leading October 2023's group of dedicated Nurses In Action volunteers in Nepal is Registered Nurse, seasoned trekker and adventurer Jen Blake.
Jen is a registered nurse working for the National Health Service in the UK/Scotland. In between her trekking, marathons, and triathlons, she works in the Cardiac Cath Laboratory alongside the Coronary Care Unit in Ninewells Hospital in NHS Tayside. A true inspiration!
Having been involved in World Youth International's Global Adventurer's Program in Nepal during November 2022, and taking part in many adventures throughout Nepal and other amazing parts of the world, Jen is the perfect candidate to now lead the group of Nurses In Action Volunteers.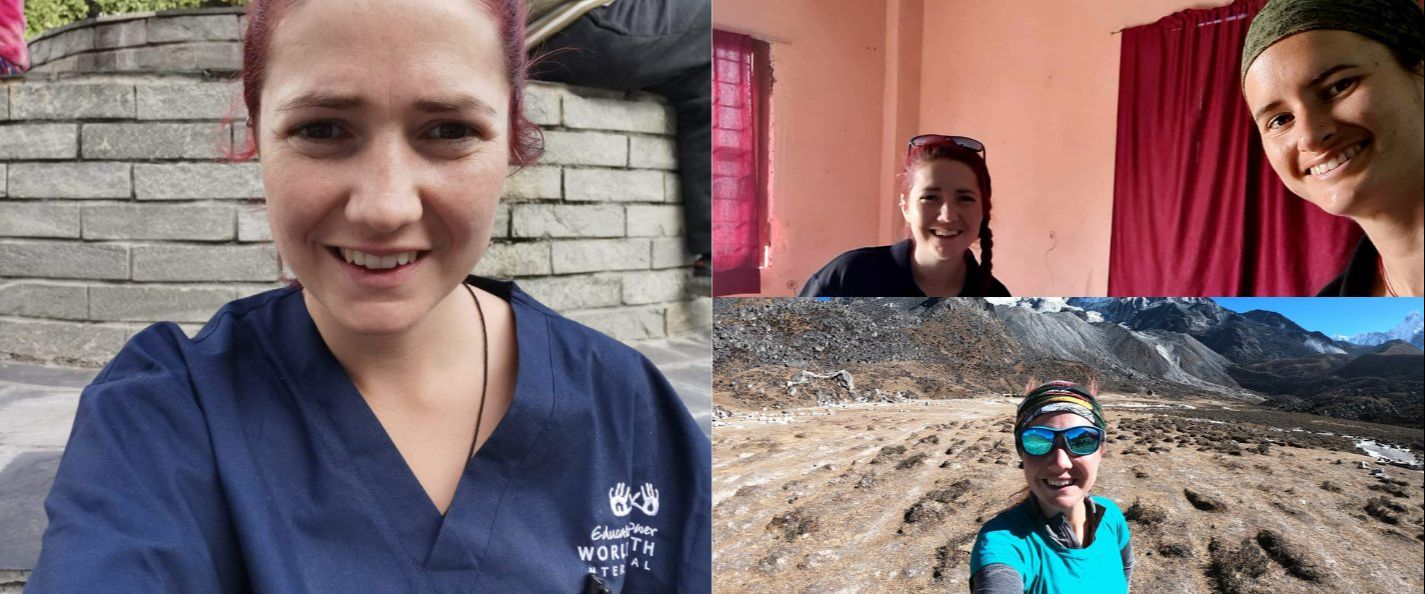 Read on to hear all about Jen's adventures!
What was your involvement with World Youth International before committing to Nurses In Action Nepal?
I heard about WYI early in 2022 when I was looking to volunteer as a nurse abroad. When I researched the charity, the family history and inclusive way of running things, team approach and previous stories really appealed to me. They are dedicated to working alongside communities and really engaging with what is important to the people they are working with. After my initial interview with Terry (General Manager), I knew that it would be a great opportunity and just what I was looking for. It also gave me the challenge to raise money prior to departure which motivated me to do 2 challenges which I had been very keen to complete. I cycled the North Coast 500 in 5.5 days, which is a 500 mile road that travels around the north coast of Scotland. I also ran an Ultra Marathon - 80km - in the highlands. I decided to make it a triathlon, so I swam 1km in a Loch. This gave me a great chance to talk to people about the charity and the work they do - both nursing and educational.
When I met Terry and the WYI team in Nepal, I realised I had definitely made the right choice. They were so welcoming, friendly, helpful and passionate about the work they do. I was fortunate to be part of the Change a Life Boarding Centre opening at the World Youth International School in November which was such a magical day, and great to see first-hand how the school is helping hundreds of children.
I then travelled to Pokhara to volunteer as a Nurse in the Western Regional Hospital, including helping to run a few health camps - using some of the money I raised to buy supplies, games for people in an orphanage and care home, and dental supplies for school children. It was a fantastic few weeks - so much so that I went back to the hospital in January to do a further 2.5 weeks. WYI has been fantastic and given me opportunities to discover new skills, meet new people and help to contribute to the communities that have given me so much in Nepal.
What are you most looking forward to during the Nurses In Action program?
I am really looking forward to meeting all the Volunteers and joining in their adventure of a lifetime. I am excited to share my love of Nepal and its wild places with others and to see it for the first time again through the eyes of the Volunteers. I found that my time volunteering in Nepal changed my outlook for my nursing practice back in the UK, and opened my eyes to the challenges that can be faced in healthcare in other countries, but also to the solutions and resourcefulness which come from these challenges. It will be fantastic to set up and help to run the rural Health Camp at the end of the program and really feel like we are giving back to the local communities. Having worked at Western Regional Hospital this year, I am hoping that I will be able to provide support and encouragement for the volunteers during their placements, to help them to really immerse in the experience. Hopefully the volunteers will return home and tell their friends, families and colleagues about their experiences, and inspire others to take on a similar adventure or volunteer themselves!
How many times have you previously travelled to Nepal?
I have been very lucky to have had the opportunity to visit Nepal twice now. I first travelled to Nepal in 2017, before I was a nurse. I spent time trekking, exploring and volunteering at a homestay in Chitwan (helping in the local school and on the farm). I fell in love with the country; the people, the wildlife, the incredible scenery and of course, the food, and knew that I wanted to go back. In October 2022 I was thrilled to return to Nepal with World Youth International on their Global Adventurers Program, as a registered nurse.
Why are you so passionate about Nepal?
When I visited Nepal in 2017, I was captivated by the incredible scenery, the pace and way of life, the kindness and genuineness of the people I met and knew when I left that I would definitely return. The Himalayas have a certain magic that made me really want to explore them further. Everyone I met was very friendly and helpful, which made it a great place to travel around. Nepal has so much to offer, from jungle in the south, bustling cities and traditional hilltop villages, to raging white water rivers, peaceful lakes and of course, the incredible mountains. As someone who loves being outdoors, exploring new places and is passionate about nature, it's a very special place.
What did you do on your Global Adventures Program nursing placement during 2022?
My placement kicked off at the World Youth International School where I ran a Health Camp for over 300 students alongside Nurse Kate from Melbourne, and local Doctors and Dentists. We then spent time in Pokhara volunteering alongside Nepalese healthcare staff in the Western Regional Hospital. It was challenging and eye opening, but a brilliant experience – I mainly worked in Intensive Care, with a couple of days in A&E. I also visited the Cardiac Cath Lab in Kathmandu which was a great opportunity. We were able to work closely with the Nepalese team, ask questions and become more familiar with the hospital and wards before getting stuck in to help out wherever we could. I was really keen to learn and to see how see what life as a nurse is like in Nepal at the Western Regional.
What do you love the most about being a nurse?
Oh, so many things. Nursing is so diverse, it can take you anywhere. You are always learning and you're not only learning from your environment, but you're also learning from the people that you meet. While in Nepal during November 2022 I was with a fantastic nurse from Australia called Kate and she's a theatre nurse and it's brilliant being able to share stories and share insights and support each other as well. Nursing is such a supportive job - you're in it together and I love that.
Watch Jen's video from when she was at the World Youth International School in Nov 22: Facebook
If you're also passionate about giving back, and want to plan future trips, particularly when some of the communities we work within will need more support than ever, consider signing up in advance to the Nurses In Action program. Find out more: https://worldyouth.org.au/volunteer/nurses-in-action